This article will find you the best Interac online casinos available in Canada.
Card payments always feel unsettling, no matter how reputable an online casino is. You're giving out your personal information, after all. That's why payment methods such as Interac are so popular. You can fund your account at Canadian casinos without revealing your credit card number or other banking credentials and enjoy some exclusive bonuses.
However, things can get confusing with the number of new Interac online casinos launched weekly. That's where we step in, though. Our team comprises industry experts with years of experience, and they know how to find the best Interac casinos. In addition to our top list, we'll also analyze Interac itself and key tips and benefits.
Ready to see what's all the fuss about?
These are the best Interac casinos we currently offer; they also offer amazing casino bonuses!
📌 List of the Top Interac Casinos for Canadian Players
To fully enjoy Interac and all its benefits, you have to be picky and only go for the best Interac casinos. Remember, depositing and withdrawing are just a tiny part of your online gambling experience. That's why our team catalogues every new Interac site and tests it, in addition to performing comparisons with the ones we've already reviewed.
Keep in mind that our lists are regularly updated, and even the best of the best have their progress tracked in case they slip up. It's important to always have the latest information, especially when it comes to bonuses, VIP programs and more. So, without further ado, here are the best Interac online casinos in Canada 2023. Make your pick and good luck!
📌 Why Should You Use Interac for Online Gambling?
Nowadays, the market is so competitive that Canadian casinos have no choice but to offer all the popular payment methods. Sometimes, this number exceeds a dozen, which makes it hard to decide on just one. And since Interac is often found among available deposit options, this begs the question – why are Interac online casinos so good? Why should you use this payment method and not something different? Well, we believe it's down to four main reasons.
Privacy. Interac is not a bank nor an eWallet. It's an interbank network made to facilitate transactions between both businesses and individuals. Therefore, when casinos accept Interac, they let the banks verify the transactions themselves, which means they don't get their hands on your personal information. Sure, security standards are higher than ever, but it's always best not to give out all your banking credentials if you don't have to.
Speed. Because the bank guarantees your identity through the Interac network, you won't have to wait for 5-7 business days like you would with card withdrawals. Instead, your winnings can arrive the very next day. This is a big advantage, especially for high rollers, since they want to be able to reinvest their winnings and circulate them through different websites. And if you're feeling adventurous, Interac casinos make exploration much easier.
Works with a lot of banks. In the beginning, Interac only had TD, Desjardins, Scotiabank, CIBC and RBC as its member banks. Today, there are a little less than 100 of them, meaning most of the country is covered. In fact, only smaller credit unions and newer independent banks aren't members yet. So regardless of where you have your account, you can play at Interac online casinos in Canada just by completing a few easy steps at your bank's website.
Accepted by a majority of Canadian casinos. Simply put, Interac is ubiquitous in Canada. Its debit cards and eTransfer services provide people with access to 50,000+ ATMs and various privacy-centred features. Therefore, casinos had no choice but to start working with Interac. Even though casinos pay bigger fees than players, the amount of additional traffic makes it worth it.
📌 Interac Online vs. Interac e-Transfer: Which is Better?
When someone mentions Interac, it can mean two things – Interac Online and Interac e-Transfer. Both punters and casinos often mix these terms up, so what's the difference? Here's a quick rundown of both sub-services and their benefits.
| | | |
| --- | --- | --- |
| | Interac Online | Interac e-Transfer |
| Recipient must accept | No | Yes |
| Waiting time for withdrawals | 24-48 hours | 3-5 business days |
| Deposits via email | No | Yes |
| Used by all banks | No | Yes |
📌 Interac Online
Launched in 2003, Interac Online is a banking gateway that allows users to send money without revealing financial information. This makes it much safer than VISA, MasterCard or any other credit/debit card payment. If you're registering at a new casino, it's best to use Interac Online.
Transfers are made by 'pulling' the money from your bank account and sending it directly to the casino. All the data you enter is on your bank's website, which adheres to the strictest online security standards. Thus, the casino will only know that the arriving payment is authorized by you and the money is credited to your account. Because of this, withdrawals are much quicker, too.
📌 Interac e-Transfer
Similar to Interac Online, Interac e-Transfer lets personal and business users exchange funds. You only have to enter your basic information on your online banking website, and the casino will receive an email notification about your payment. It will have your account name next to it. For the transaction to be complete, Interac casinos have to answer a security question.
The process is largely automated, allowing you to instantly add money to any Canadian gambling site. Deposits can be made via email, and more banks use this service compared to Interac online. As for the casinos themselves, they all have an account in one of the big-five Canadian banks, which support both features.
📌 How We Select the Best Interac Casinos
It's no secret that many of the top Interac casinos in 2023 have pretty much the same approach. Does this mean they're all the same? Not quite. Just because they use tried and tested methods doesn't mean you can't tell them apart. On the contrary, it's very easy to find out which Interac online casinos are worth your time. Our team uses the following criteria to get an approximate grade:
Licensing and Security. First and foremost, we don't want to recommend websites that aren't 100% safe. This means they have to be licensed by one of Canada's several regulators, and their place must be confirmed in the licensor's official registry. Aside from this seal of approval, we also look at third-party auditors and their certificates. In addition, SSL encryption and AML protocols are mandatory.
Reputation. It's no secret that the process for getting an online casino license isn't that difficult. That's why a regulator's approval is not enough to properly judge a casino. While we do strive to be objective in our reviews, other players can also be helpful. Whether it's social media sites or casino forums, their experiences are the most telling sign if a casino is up to no good. If a majority of players are happy with their experience, there's nothing to worry about.
Game variety. We'd say there are 100-200 slots and table game variants every Interac online casino should have. However, that's still the minimum. It's not enough to offer just the classics nowadays. That's why all the top sites have offers exceeding 1,000+ games. Don't worry, we test them to ensure it's not some shoddy software from a random provider. Unknown games that are good yield bonus points in our good.
Available bonuses. As mentioned previously, playing at a new casino is always risky. Bonuses are meant to mitigate this risk, especially because you're not risking your own money. Plus, it's a good excuse to get to know the casino and see whether it's a good fit in the long run. We first look for bonuses that are lucrative enough to make a difference. Next, we analyze their terms and conditions to see whether the wagering requirements and rules are fair.
Extra features. To enter our list of the best Interac online casinos, sites have to offer a bit more than what's expected of them. Of course, this doesn't mean they have to reinvent the wheel. Instead, we're looking for things such as clever design solutions, the use of search filters or perhaps a helpful FAQ section. It goes without saying that we only count features that have a purpose and not those for show.
📌 Does My Bank Support Interac Deposits?
If you want to know whether your bank is a part of the Interac network, just ask customer support and look for your bank on the list of participating financial institutions. Again, Interac e-Transfer is supported by almost every big bank, small bank and credit union, so you won't be disappointed. When it comes to Interac Online, only BMO, Scotiabank, BMO and TD support it. Regardless, all casinos accept both variants.
📌 Interac Fees & Additional Costs
Players don't have to pay anything when making deposits at Interac online casinos. Instead, the site is charged an Acquirer Service fee. There are several ranges, with corresponding costs:
C$0.115 for transactions of C$15 or less
C$0.265 for amounts between C$15.01 and C$35
C$0.465 for transactions of C$35.01
Therefore, you can expect to be charged when your withdrawal arrives in your bank account. Thankfully, the fee is barely noticeable. However, half a dollar can add up if you're the type of player to immediately take his winnings and leave. That's why we'd recommend making withdrawals every couple of days.
📌 How to Deposit with Interac
There are two ways to deposit at Interac casinos – Interac Online and Interac e-Transfer. Once you head over to the site's banking section, here's what you need to do:
For Interac Online, select the right logo.
Pick the amount you wish to deposit. There are some pre-suggested ones, along with an empty field.
Select your banking institution from the ones offered below.
You'll be instantly redirected to your online banking account, where you have to manually fill out the request for a deposit. Double-check everything and rush.
Confirm the payment and wait for the receipt.
As for Interac e-Transfer, here's how you can deposit money at Canadian online casinos:
Select Interac eTransfer from the row/column of available payment methods.
Enter an amount and confirm the request.
Pick your bank from the list.
Follow the instructions on the Interac e-Transfer sheet, which include the casino's email, the confirmation code and a security question that the casino needs to answer.
Since the casino staff has to enter the answer, as well as the code, you'll wait for 5-30 minutes until your transaction is finalized.
📌 How to Withdraw with Interac
You'll be surprised to find out that this is one of the simplest ways to withdraw your casino winnings. All you need to do is select either Interac Online or Interac e-Transfer as the desired payment option. Interac Online transfers will land in your account automatically after 24-48 hours, whereas eTransfers take a bit longer.
📌 Interac Online Casinos Pros & Cons
📌 Pros
Licensed
Safe
Lots of games by reputable providers
Easy to make deposits
📌 Cons
Scammers sometimes use fake Interac emails for phishing
Receiver's fees
📌 FAQ
Is Interac available outside of Canada?
No, Interac Casinos don't exist abroad because Interac is a network of Canadian banks. This means they don't have the authority to accept members from other countries. CAD is the only available currency for this same reason.
Are Interac online casinos safe?
Yes, all the Interac online casinos you see on our site are safe and licensed by Canadian gambling regulators. In addition, they boast cutting-edge security features, such as SSL transcription and other things that help punters' data and banking credentials stay out of harm's way.
How to sign up for Interac?
You don't need to sign up to use Interac. The only requirement is to have a valid bank account at one of the network's member banks. You will log into your eBanking account and approve all transactions there. Every time you want to deposit/withdraw, just click the Interac logo.
📌 Related Articles
📌 Resources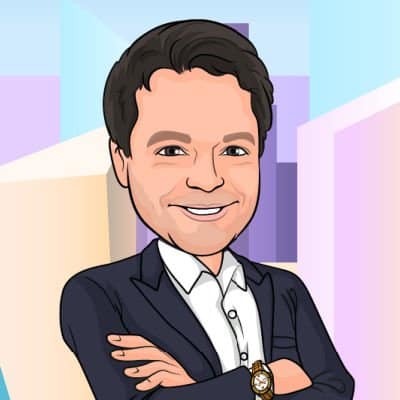 Erik King
Editor in Chief - Zamsino.com
I always loved gambling and probably always will, spending my time reviewing gambling sites to help people save time.
Last updated 08/11/23 by Erik King