In the realm of gambling, numbers are not only a constant but play the most vital role in how we perceive gambling. For some, they represent opportunity, while for others, they represent pure business interest. Numbers for the gambling community can be used to work out the possibilities of a roulette game or the odds of a sporting event. Still, they can also give us a great understanding of what gambling means to many people worldwide.
With numerous survey reports, facts, and mind-boggling statistics, we've grouped the metrics into manageable portions, from the monetary powers of the gambling sector to player-specific patterns, so you get valuable insights into the ever-growing gambling world.
Gambling Worldwide: A Comprehensive Overview
Nearly 26% of people engage in gambling, with 1.6 billion individuals placing bets worldwide. Countries with the highest concentration of gamblers include the United States, China, the United Kingdom, Australia, and Malta.
In 2021, China generated the highest gambling revenue at $46.01 billion, followed by the USA making $40.54 billion. Europe's GGR was €87.2 billion. Land-based casinos accounted for €50.8 billion, while online casinos contributed €36.4 billion.
In Australia, slot machines are a big hit. According to Goodluckmate's statistics, New South Wales has the country's largest gambling industry, valued at AU$96.56 billion.
Malta is another intriguing gambling destination. Despite having a small demographic, the Mediterranean island experiences the highest gambling losses per person. Malta is home to the world's largest online gambling companies and licensees. Maltese legislation allows for both real and virtual gambling, so many providers have their Malta headquarters to get tax-free incentives.
Online Betting Statistics
Like every other aspect of our life, gambling has moved online over the past two decades. According to iGB, sports betting surpassed casino games in Europe with a market dominance of 42.5%. The lottery came in second with 12.6%, following poker at 5%, and bingo at 4.3%.
France earned €691 million through online sports betting in 2018. Over 20% of real bets in the gaming industry come from mobile-based gambling.
Despite the enormous popularity of internet gambling, land-based casinos control a quarter of the worldwide industry. In the US, the total income generated by the casino gaming industry is touching 80 billion dollars.
The Biggest Gambling Destinations in the World
Let's look at the concrete statistics for the top 6 gambling destinations and each gambling center's total revenue.
USA
In 48 U.S. states, some form of gambling is permitted, with Utah and Hawaii being the only states that do not allow gambling. Las Vegas is the country's fastest expanding metropolis. Casinos in Nevada enjoyed a gambling income of $13.4 billion in 2021.
Card games, lotteries, and other online casino games are some of the most popular gambling activities in the U.S. The states generated a substantial amount of US$240 billion in revenue.
In 2018, the restriction was relaxed on sports betting, which encouraged the participation of U.S. bettors. A survey taken in March 2020 revealed that 13% of more than 2,100 U.S. respondents placed bets on sporting events.
UK
The UK Gambling Commission has regulated gambling in the UK since 2005. Top gambling activities include casino slots, football, horse racing bets, and national lotteries. Most online gamblers in the UK are between 35 and 44.
From October 2018 to September 2019, the sector generated £14.3 billion. It splits into the following sections:
Online sports betting – £2.1 billion
Slots – £3.2 billion
Regular betting – £2.8 billion
National lotteries – £3.18 billion
Land-based betting – £2.8 billion
Bingos – £668 million
China
Gambling is a heated topic in China. State-run lotteries serve a population of more than 1 billion people, but live and internet gambling is prohibited.
Macao is a significant global gambling center. This Special Administrative Region of China hosts more than 42 casinos and is the only part of China where gambling is fully permitted.
The market income for esports gambling in China increased to 140 billion yuan in 2021, a 2.65% increase from around 136 billion yuan the year before.
In 2021, baccarat, slots, roulette, mahjong, and football lottery brought over US$10.3 billion to the city's gross revenue.
Canada
While each Canadian province has its casino legislation, Canadians have easy access to internet gambling. More than 75% of Canadians have taken part in various gambling activities. The region of Saskatchewan has the most gamblers in the nation bringing in $841 per adult.
It is estimated that the gambling industry collected CAD 13.5 billion in revenue in 2017. The lottery is the most lucrative form of gambling in Ontario, with lottery sales going up CAD 4000 billion. Other famous forms of gambling include scratch cards, slot machines, and esports betting.
Australia
Gambling is a widely permitted leisure activity in Australia. Top gambling activities include pokies (slots), sports betting, and lotteries. Statistics demonstrate that Australian gamblers are typically between 30 and 49.
There is minimal gender diversity. Women made up only 7.2% of all gamblers in 2011. They now equal an astounding 45.8%. It signifies that they are approaching the 51% male population percentage.
According to statistics, almost 80% of Australians occasionally participate in gambling, contributing to 10% of the state's income. The revenue comes from different gambling forms like:
Non-remote gambling – AUD$12.52 billion
Casino games – AUD$5.10 billion
Race betting – AUD$3.54 billion
Sports betting – AUD$1.23 billion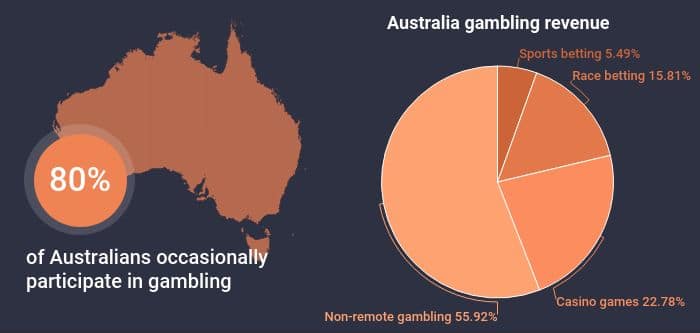 Singapore
Singapore established its first casino in 2010. Since then, it has become a top gambling hotspot in South East Asia. Introducing casinos in Singapore caused anxiety among the populace, worried about addiction and financial ruin.
The government is preventing locals from gambling by charging people who want to enter the casino an admission fee of $81. Under the Family Exclusion Orders, families may also prohibit members from going to the casinos. However, these initiatives haven't had much of an effect on the nation's gambling culture.
Interesting Gambling Facts From Around the World
Most people love to test their luck; some get hooked on the thrill, while others only do it to unwind. Want to know some exciting gambling facts from around the world?
Here are a few figures that are sure to startle you.
A whopping 1,560,000,000people worldwide have indulged in gambling practices.
Men bet twice as often as women.
Almost 85% of all Americans have wagered in their life.
The international online betting market is worth $450 billion.
In 2003, Las Vegas' Excalibur Hotel-Casino paid the most generous jackpot for slot machines (US$39,713,982.25)
Gambling income accounts for half of Macau's total revenue.
Every year, Australians spend $18 billion on online gambling.
Nevada has more than 5,510 casino games, making it a critical U.S. gambling market.
Gender-Related Gambling Patterns
Gender significantly impacts gambling since men and women have contrasting patterns. Men bet more frequently and spend a reasonable sum on betting. Comparatively, women are more likely to target having fun and focus on staking smaller sums.
Let's see the gender-specific gaming statistics that point out some of the most significant disparities.
43.5% of male UK citizens in June 2021 took part in at least one game.
39.8% of women in the UK gambled at least once in June 2021.
Male and female gaming participation rates have decreased since June 2017 due to increased addiction awareness.
Compared to women, men appear to be more prone to gambling and gambling-related disorders.
Around 67% of females and 73% of males in New Jersey have gambled in the last year.
The Increasing Popularity of Online Casinos During COVID-19
While COVID-19 influenced our daily lives, the internet gambling market thrived. The epidemic brought worry and anxiety; therefore, people turned to online activities to keep themselves interested.
In October 2021, the highest number of bets were placed worldwide. Roughly 6,120,476,686 bets were placed on slot machines, 275,480,062 on live events, 80,664,453 on poker, and 335,585,894 on other casino games.
December 2021 saw the highest gross gambling yield with £200,186,689 on slots and £141,985,160 on actual event betting. Virtual betting saw a hefty £6,125,645 GGY and £62,707,725 on casino games.
The Toxic Face of Gambling: Facts and Statistics
People often only picture the glitzy world of Las Vegas. But gambling has its downsides too. With an increase in gambling opportunities, gambling problems are at their peak. Unsettling gambling addiction statistics show how this problem affects everyone equally.
The most frequent sufferers of gambling addiction are young adults between the ages of 20 to 30. Recent figures from George State University show that 50% of those who struggle with addiction engage in criminal activity to support their obsession.
American problem gamblers comprise about 3% to 5% of the population. Conversely, people with PTSD have effective problem gambling rates, and 34% of bettors who seek treatment also exhibit signs of PTSD.
Famous Online Casino Games
In contrast to the decline of skill and poker betting, both sports betting and casino gambling have increased since 2007. Lottery games have also become more popular but at a far less effective rate.
Slot machines are the most well-known casino games in the U.S., UK, and Australia. For American casino patrons, blackjack is the game that follows slots and poker.
Slots
Branded slots are rising in popularity. Players with solid brand affinity are more likely to try slot games featuring their favorite characters. The most played branded slot games are Jurassic Park, Westworld, Batman, and Game of Thrones-themed.
On the other hand, progressive jackpots have been the source of incredible winnings, with players winning payouts of $5 to $7 million.
Lottery
Many nations allow lotteries, including those that forbid conventional betting and casino-style gambling. In 2010, approximately 49% of Americans reported playing the lottery. Lotteries, claims Gambling 'N Go, make up around 6% of the gaming audience.
Since then, EGBA forecasted an increased percentage of online gaming. Lotteries rose from 2.3% to 4% between 2013 to 2016. The lottery payouts from 2012 to 2015 increased by 22% in the UK, going from £3.38 billion to £4.13 billion.
Sports Betting
According to Gambling 'N Go, sports betting is the most well-liked form of gambling. You may wager on a player, a team, a goal, or potential runs. Many people make online sports bets using cryptocurrencies. The rate is substantially greater for college students who indulge in small sporting events.
Card Games
In the U.S., World Series of Poker winners take home between $7–$10 million. The largest online competitions get enough participants to provide first rewards of $1 million. In Nevada, players may earn up to 143 million dollars in poker games. On the other hand, Australia is well-known for having many poker players.
Bright Future of Gambling
Online gambling is snowballing. Technological advancements worldwide lead to more companies battling for players' attention and increasing wagering activity. Gambling has a promising future globally, with experts predicting the $635 billion revenue to hit the one trillion mark.
Cash revenues are estimated to reach $21.14 billion in the US, while online gambling revenues may hit $4 billion in the UK. According to Morgan Stanley's "Macao 2022 – Power of Compounding" analysis, the gambling sector in Macao might reach $53 billion by 2022. The European countries already make up the most significant portion of the industry at 57% and are expected to hit even higher rates.
Data Sources
https://www.gamblingcommission.gov.uk/statistics-and-research/publication/gambling-business-data-on-gambling-during-covid-19-may-2022
https://www.prnewswire.com/news-releases/global-gambling-markets-report-2022-2026–2030-increasing-popularity-of-gambling-apps-and-social-gambling-will-propel-the-growth-of-the-market-going-forward-301515642.html
https://www.pbs.org/wgbh/pages/frontline/shows/gamble/etc/facts.html
https://www.worldatlas.com/articles/countries-that-gamble-the-most.html
https://www.statista.com/topics/4642/gaming-in-china/
https://www.statista.com/topics/5675/casino-industry/
https://www.statista.com/statistics/965488/singapore-gambling-participation-rate/
https://ipgap.indiana.edu/documents/problem-gambling-faq.pdf
https://www.ncbi.nlm.nih.gov/pmc/articles/PMC4736715/
https://thelawreviews.co.uk/title/the-gambling-law-review/malta
📌 Related Articles